Entertaining thousands around North Texas and Southern Oklahoma including Dallas, Forth Worth,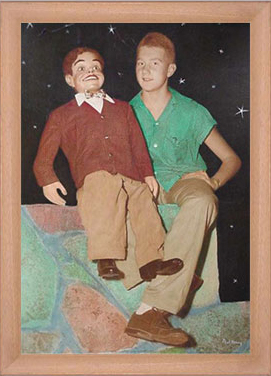 L A Hudson is retired after 35 years in the Public Education, but is certainly not retired from over 50 years of performing as a ventriloquist. In fact, he is performing more now than ever. He started learning his skills as a young boy, as shown in the photo to the left, but keeps learning today by attending the International Ventriloquist Convention where some of the top ventriloquist in the world meet to share ideas, techniques, products, and other bits of business.

Hudson performs for banquets, stage shows, corporate shows, parties, school and church programs. He performs on television and does stand up comedy. He uses his skills to send a message, teach a lessson, to sell a product, or service. He performs in other areas of entertainment, such as acting in theatrical musicals, comedy, drama, and opera. He has sung with vocal groups and played in bands. All have helped him to be a polished performer as a ventriloquist. It makes no difference if the audience is 9 years old, or 99 years old, LA wants his characters to become real and alive to his audience.

L A's first ventriloquist character was a Paul Winchell figure, Jerry Mahoney. His body sort of deteriorated over the years and L A says he is beginning to understand the feeling. When he tries to talk to Jerry, all he wants to do is sing, "I Ain't Got NObody".

Terry Smart, shown in the photo with Hudson, is the character that has been entertaining audiences for over 50 years. Terry was created by the British figure maker Len Insull, and is a collector's item today, but for L A Hudson and Friends, he is the working figure and the main character in the show. Other personalities that may come out of the trunk are: a chimpanzee named Coconut, a skunk named Chanel #5, a crow named Heidi, a basset hound named Happy, or a vulture named Vic D. Misc. You are sure to get lots of laughs when L A Hudson and Friends come to perform.